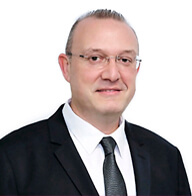 Ahmet Ercüment Kepkep
Mr. Kepkep was born in 1965. He graduated from Mathematics Department of Boğaziçi University. He started his career at Halk Yaşam Sigorta's Technical Department in 1990. He has assumed various tasks at Koç Allianz Hayat Sigorta's Technical Department between 1991 and 2006. He also served as a manager at the Technical Department from 1997 to 2004. Mr. Kepkep was a member of Insurance Association of Turkey's Life Research and Review Committee while serving the organization as Product and Project Development Manager from 2004 to 2006. He served Allianz Hayat ve Emeklilik as Corporate Marketing Manager between 2006 and 2009. 
Appointed to his position at our company as of 06.08.2010, Mr. Kepkep oversees tasks related to reinsurance operations, pricing, risk acceptance, life technical, health production, technical provisions, product development, group sales support, group marketing support, project support.