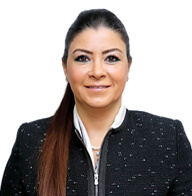 Esra Işıl Küçük
Esra Işıl İlter graduated from the Department of Physics of Yıldız Technical University. Ms. İlter started her career at Aviva Hayat ve Emeklilik's Sales and Marketing Department in 1995. She held various positions at this company until 2007. Her final position involved managing the whole organization across Turkey as the Director of the Corporate Customers Department. She then served Hedef Filo Hizmetleri, an internationally owned firm in the fleet leasing industry, as a senior executive working as Director responsible for Business Development and Human Resources Department.
Ms. İlter continues her MBA program at Bilgi University.
Ms. İlter has been serving our company as Deputy General Manager, Corporate Sales since her appointment in 02.09.2009.