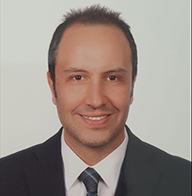 Gökhan Süderbay
Gökhan Süderbay graduated from Hacettepe University Computer Engineering Department. He completed his MBA at Gebze Institute of Technology and took Ph.D courses in the Department of Business Administration.

After kick-starting at Yapı Kredi Bank in 1997, he continued his career at Garanti Technology and then joined Aviva Insurance Group in 2005. Until 2010, he has held several roles including CIO and led the successful integration of all functions of AkPension and Aviva Life & Pension, and assumed the leadership of the IT Transformation Program Office of Aviva Europe, which includes 14 countries. Serving as CIO at Liberty Mutual Insurance for 5 years, he then worked as Managing Partner at Function IT Consulting. He worked as CIO at Hedef Fleet Services during 2016-2018, and as Group CTO at Domino's Pizza Eurasia Group operating in Turkey, Russia, Azerbaijan and Georgia during 2018 – 2019. Lastly, he founded his own company and was providing management and technology consultancy.
Besides his professional career, he was the Chairman of the Insurance Board at TÜBİYAD during 2011 – 2013; and since 2006, he has been providing trainings in institutions such as The Banks Association of Turkey, Yıldız Technical University CEC, Istanbul Institute on project management, program management, successful transformation management, agile methods.

Süderbay joined Bupa Acıbadem Sigorta on 28.06.2021 as Chief Information Officer responsible for all technology and transformation functions. .