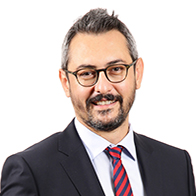 Mahir Çipil
Mahir Cipil is a graduate of Hacettepe University, Department of Business Administration. He completed his master's degree (MBA) at Cornell University in the USA and London Business School in the UK.
Beginning his career in 2000 at the Prime Ministry Undersecretariat of Treasury, he held various management positions at the General Directorate of Insurance and the General Directorate of Foreign Economic Relations.
He worked at Groupama Insurance and Groupama Pension companies as the manager responsible for Strategy and Project Management in 2010. He managed Project Management and Organization, Marketing, Claims functions as a Member of the Executive Board at Zurich Sigorta, where he started working in 2013. He worked as the Marketing and Business Development Director at Vienna Insurance Group (Ray Sigorta) between 2016 and 2020.

Mahir Çipil was appointed as the Founding Vice President of the Insurance and Private Pensions Regulation and Supervision Agency (SEDDK) in 2020. He also served as the Chairman of the Board of Directors of the Insurance Arbitration Commission, Deputy Chairman of the Board of Directors of the Agricultural Insurance Pool (TARSİM), and a member of the board of directors of the Insurance Information and Monitoring Center (SBM) and the Turkish Insurance Institute Foundation (TSEV).
He has given trainings on topics such as marketing, digital transformation, sales, project management and insurance at various universities and organizations. Mahir Çipil, who has eight books, four of which is academic, teaches project management graduate courses as a lecturer at Istanbul Bilgi University.
As of 07.10.2021, Çipil joined Bupa Acıbadem Insurance and works as the Assistant General Manager responsible for Individual Sales and Business Development.